I am currently performing in a site specific piece of Theatre called M0028 (those are zeroes rather than the noise a cow makes), written by Turkish writer Kadri Ozcan, directed by Emel Holifield, designed by Sarah Warren and produced by SanaRt Theatre.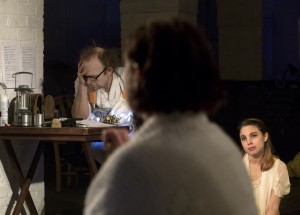 The setting is a bunker, inhabited by Adam in a post-apocalyptic future brought on by major climate change catastrophes. Most people remained ignorant of the impacts of human activities (not too far from the truth, right?) until it was too late.
I play Emma a young woman who is the assistant of Ethel, the wealthy woman who bought the bunker, the women end up accepting Adam into the bunker and from that moment the future is mapped out for them by the technology that runs the bunker. Emma is fairly naive, young when she entered the bunker without much experience of adult life. She is confident in the bunker with Ethel and Adam, due to the fact that she is so familiar with them and the surroundings. She lives in the moment so her emotions flip dependent on the situations.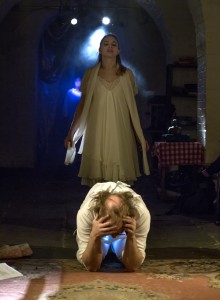 Being in a site specific piece means that the audience are immersed in the bunker before the house lights even go down, they are invited in to explore the artworks made from recycled and reclaimed materials. They also find themselves sat right in the action, leaving both the actors and the audience in a very vulnerable position, however this also means that the audience are swept right to the edge of their seat from the start to the end of the show, which lasts approximately 1 hour.
The trailer below gives you some idea of the ominous future of M0028, I pray that this piece of theatre remains a fantasy but I fear it could be a prediction for our future, a warning to make the changes required NOW!
If you haven't been to see it already there are still tickets available for Tuesday, Wednesday, Friday and Saturday at St Paul's Crypt, Bristol (tickets from Tobacco Factory Theatres). If you have already seen it please leave your comments below, I'd love your feedback.
There are some reviews here, if you really need more convincing that this is an amazing piece of theatre that I am proud to be a part of:
http://www.bristol247.com/channel/culture/theatre/reviews/review-m0028-st-pauls-church-crypt-bristol
http://www.remotegoat.com/uk/review/12045/deeply-consuming-disturbing-isolationist-dilemma/